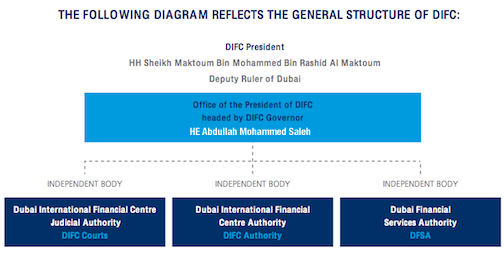 The DIFC is a 110-acre free zone located at the crossroads of the major international capital markets of New York and London (in the West) and Hong Kong (in the East), Dubai is the complementary hub connecting the region with a 24 hour/7 day a week global financial network. The DIFC is the world's newest international financial center aiming to encompass the same stature as New York, London and Hong Kong. Unlike 'offshore' tax havens, the DIFC is a fully fledged 'onshore' capital market. DIFC is unique in that it has a legislative system consistent with English Common law. Given its construct, DIFC has its own set of civil and commercial laws and regulations and has developed a complete code of law governing financial services regulation. As part of its autonomy, DIFC has created an independent judicial system.


The DIFC Courts is the entity responsible for the independent administration and enforcement of justice in DIFC. The Courts have exclusive jurisdiction over all civil and commercial disputes arising within DIFC and or relating to bodies and companies registered in DIFC.

Benefits of Setting Up in DIFC
The DFSA's regulatory mandate covers asset managements, banking and credit services, securities, collective investment funds, custody and trust services, commodities, futures trading, Islamic finance, insurance, an international equity exchange and an international commodities derivatives exchange.
Platform to access regional wealth and investment opportunities.
100 percent foreign ownership.
Zero percent tax rate on income and profits (guaranteed for a period of 50 years).
A wide network of double taxation treaties available to UAE incorporated entities.
No exchange controls (free capital convertibility).
High standards of laws, rules and regulations.
International legal system based on Common Law of England & Wales.
A wholly transparent operating environment, complying with global best practices and internationally accepted laws and regulatory processes.
A variety of legal vehicles that can be established with capital structuring flexibility.